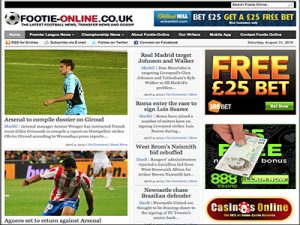 Footie Online was a football news blog that ran from 2010 – 2012 and during this time featured many high profile news breaking stories concerning transfers in the English Premier League and English Football League.
During the two years Footie Online was live, its stories were regularly featured on the BBC Sport Football Gossip pages and many national UK newspapers. These included publications such as the Daily Mail, Metro and several others.
In addition stories that we featured on Footie Online were also featured on several club news feeds on their official sites, including that of the current Premier League Champions, Manchester City.
The site was very much a labour of love and in its heydey, on some days when the BBC covered our stories, which in turn made some of our articles go viral, traffic to the site could push 100,000 visitors in a 24 hour period.
Metro get Anzhi for Bale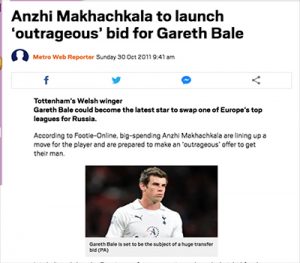 Unfortunately and yes it is confession time here, not all of the stories that featured on the site, were somewhat legit.
The vast majority of the time, yes we did actually scour the internet, including European and South American sites, some big, some not so big, to get a story.
However, one such story that kind of went viral, which originated from us, was the story concerning then Tottenham star Gareth Bale and a proposed move to big spending Russian outfit Anzhi Makhachkala.
Not only did we submit the story late at night to our contact at the BBC for inclusion on their football gossip page, which they unduly did. But, free national newspaper Metro decided to run with it too!
Not only did it feature on their website, see the screenshot, but it also landed in their print edition. At least Metro credited us, even if on their website no hyperlink was included.
However, this is more than can be said for those journalists of integrity beyond repute, that work for the Daily Mail.
Many a time a story would be lifted off Footie Online, only to appear on their Mail Online website and proclaimed as an 'Exclusive'.
Personally I took that as a compliment!
The Demise of Footie Online
I remember clearly the day Footie Online ceased to exist, in the sense that no more content was uploaded to the site. My daughter was born 6 weeks premature and after being delivered by emergency C-Section, she spent the first three weeks of her life in the NICU ward.
As a result, my time quite rightly was diverted away from running the site. Whilst I did employ writers, none had access to the site to actually publish any articles written. This was due to the fact that image copyright and the potential for lawsuits, due to the nature of our content published, I had to proof read and vet everything that went live on the site.
I have often thought about re-establishing the site, but the work load involved is too great to do so. Plus a lot has happened in the past seven years or so since Footie Online closed its doors.
The purpose of this page is to provide a cyber record as it were, of a couple of years in my career as a blogger and webmaster, which were immense fun.
So What Now?
I sold recently my main site Online Casino Reviewer back in May 2019, so am alas between jobs as it were. Having worked in the iGaming Industry for nearly twenty years or so I needed a break.
I do pop into Casinomeister from time to time and also frequent Bryan's new site Casino Gazette, but that now is the extent of the interest I have in the industry.
As for football, I still love it. Being a Bristol City season ticket holder for a number of years until recently, they and following boxing are my main sport passions.
Talking about City, I will leave you with this. The best ever moment I have experienced watching football from the stands! Up the City!